When the Metropolitan Museum of Art announced last year that the theme of the 2019 Met Gala was "Camp: Notes on Fashion", I pre-saved my groans of disappointment. The theme itself wasn't bad: "camp" is a fairly broad theme that has plenty of interpretations. However, the Met Gala has become famous for attendees completely failing to follow the theme, and with a theme like camp, it seemed like the chances that many would mess it up were as high as they've ever been.
Miracles happen, when you believe. This year was a pleasant surprise, with more than enough celebrities actually pulling out fun, flirty, outrageous, gender-bending, wiggy, balls-to-the-wall ridiculous outfits that made this year's gala one of the best in recent memory (even without stalwarts like Rihanna and Blake Lively). Yes, there were men in boring black tuxes and models in prom dresses, but they paled in comparison to some of the truly interesting, memorable looks this year.
Here are some of the highlights:
Best Overall Performance: Lady Gaga
One of this year's co-chairs, "camp" was a theme practically hand-sewn for Lady Gaga, and the Oscar-winning superstar did not disappoint. She arrived on the red carpet in a voluminous pink balloon gown by Brandon Maxwell, only to have it peeled off to reveal a black ball gown underneath. After a brief display with an umbrella, that dress was peeled back to reveal a slinky, hot pink column dress, with Gaga delivering her best Betty Boop impersonation. Just when you thought she was done, Gaga's handlers pulled a striptease hat trick, leaving Gaga in bra, panties, fishnets and her trademark sky-high heels. The crowd went into a frenzy, and Gaga set the tone for the evening, reminding everyone that camp is as much about the journey as the final product. And God, what a journey that was. If you haven't seen, check out Variety's full recap of the arrival:
Best Entrance: Billy Porter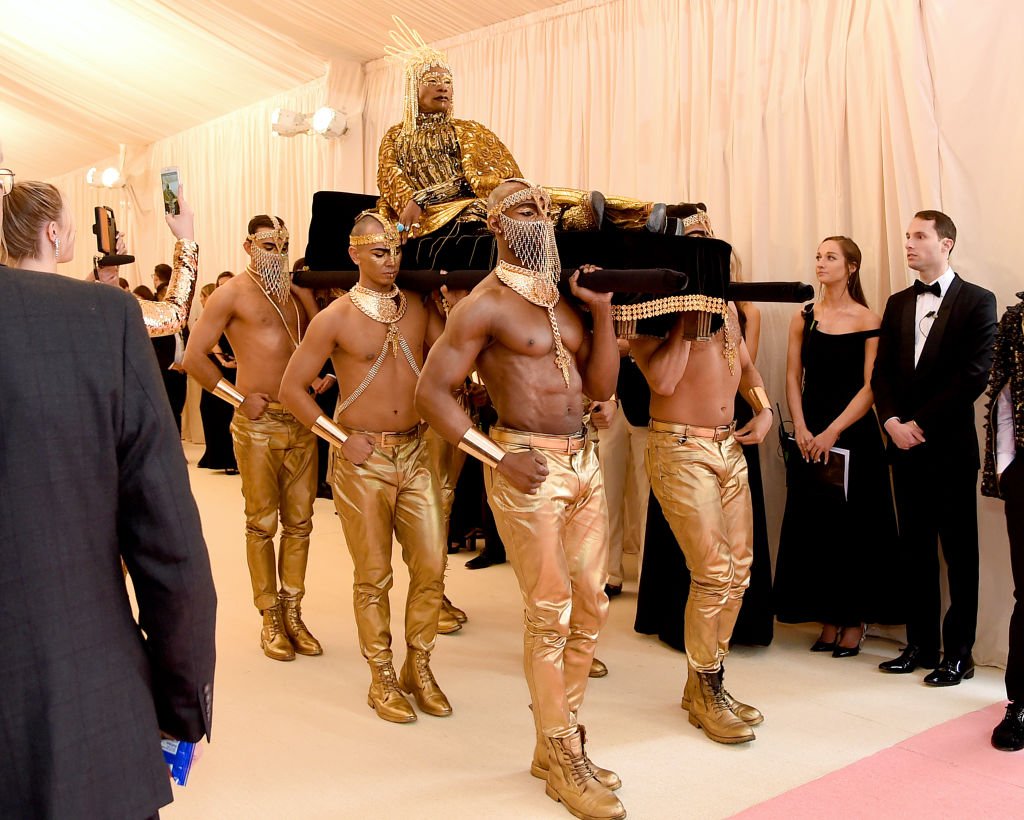 Of course, Emmy nominee Billy Porter was going to show up and show out at the Met Gala. But I don't think anyone could've imagined he would top his show-stopping appearance on the Oscars red carpet in March. Well he did, with a little help from some musclebound friends carrying him on the red carpet on a black and gold platform while he laid back in his best Cleopatra look. As if that wasn't dramatic enough, when Porter was brought down onto the carpet, Porter lifted his arms to reveal the full golden wingspan of his outfit. Gaga threw down the gauntlet, and Porter stomped on it for good measure.
Best Headpiece: Celine Dion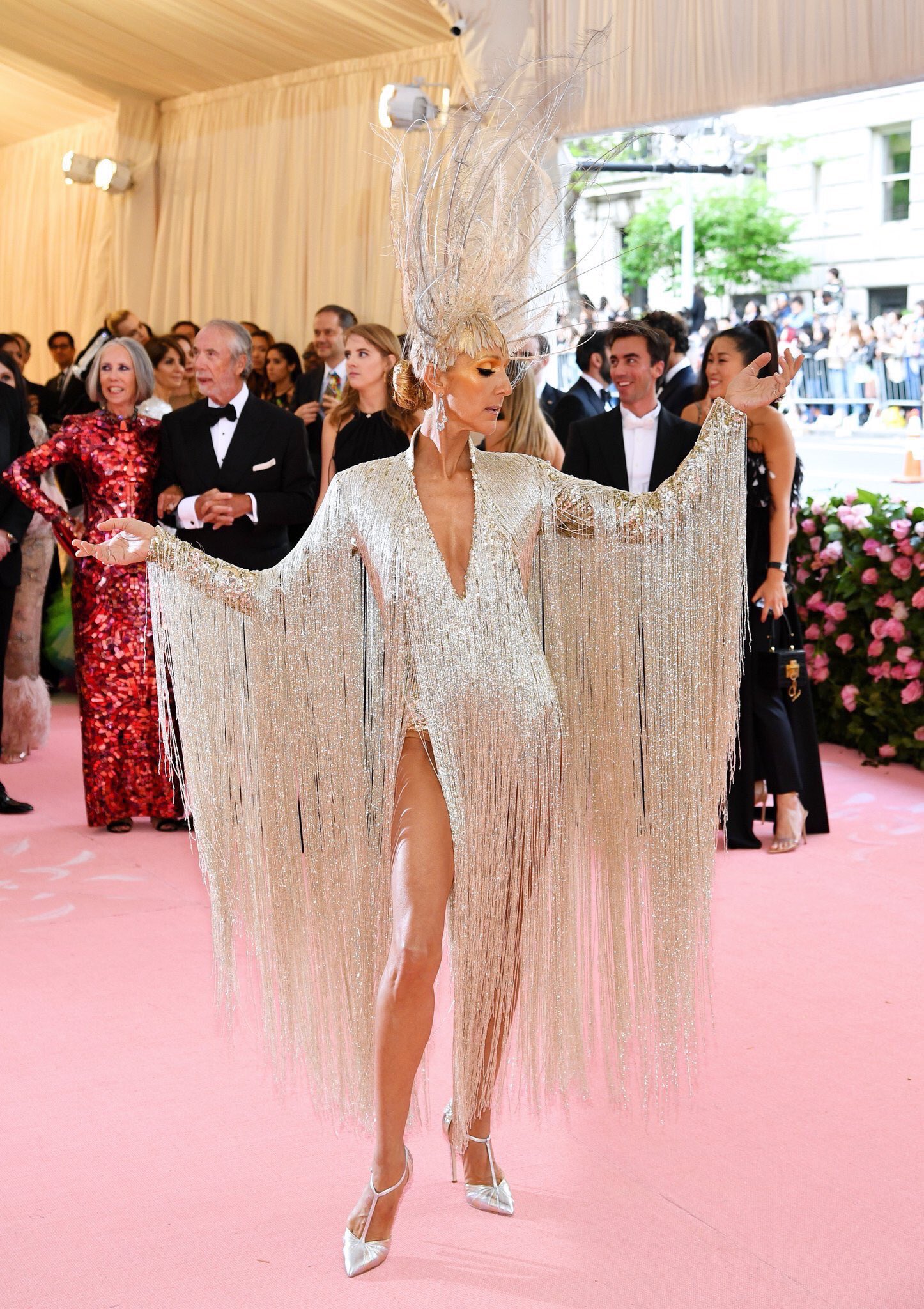 Consider that this is only Celine Dion's second time at the Met Gala. We could've had headpieces like these for years, but instead, the Costume Institute was inviting models and C-list celebrities who didn't know how to follow a theme. And Celine even said she didn't know what camp was…ugh…

Best Understated On-Theme Look: Harry Styles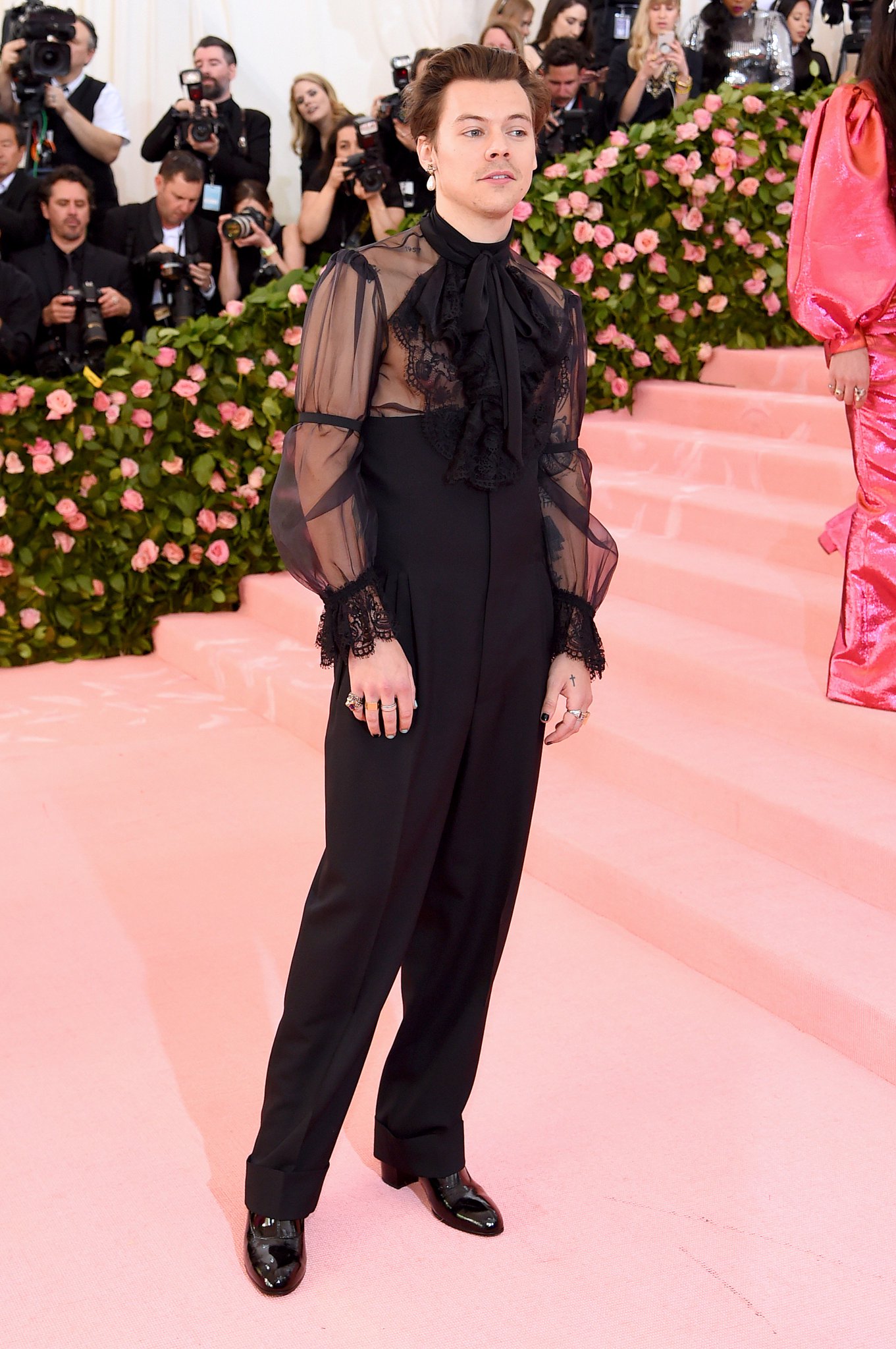 Harry Styles, the undisputed prince of the bold and beautiful suit, was another celebrity who seemed tailor-made for camp. Yet, Styles surprised with a muted black color palette, designed for him by Gucci. He did, however, flout gendered expectations of fit, fabric, and cut, wearing a see-through tulle shirt with billowing sleeves and a high-waisted jumpsuit, with one pearl earring for good measure. While one might've hoped for a just a splash of color, the blurring of masculine and feminine struck a more powerful message than any of his avant-garde suiting could've done.
Best Stated On-Theme Look: Ezra Miller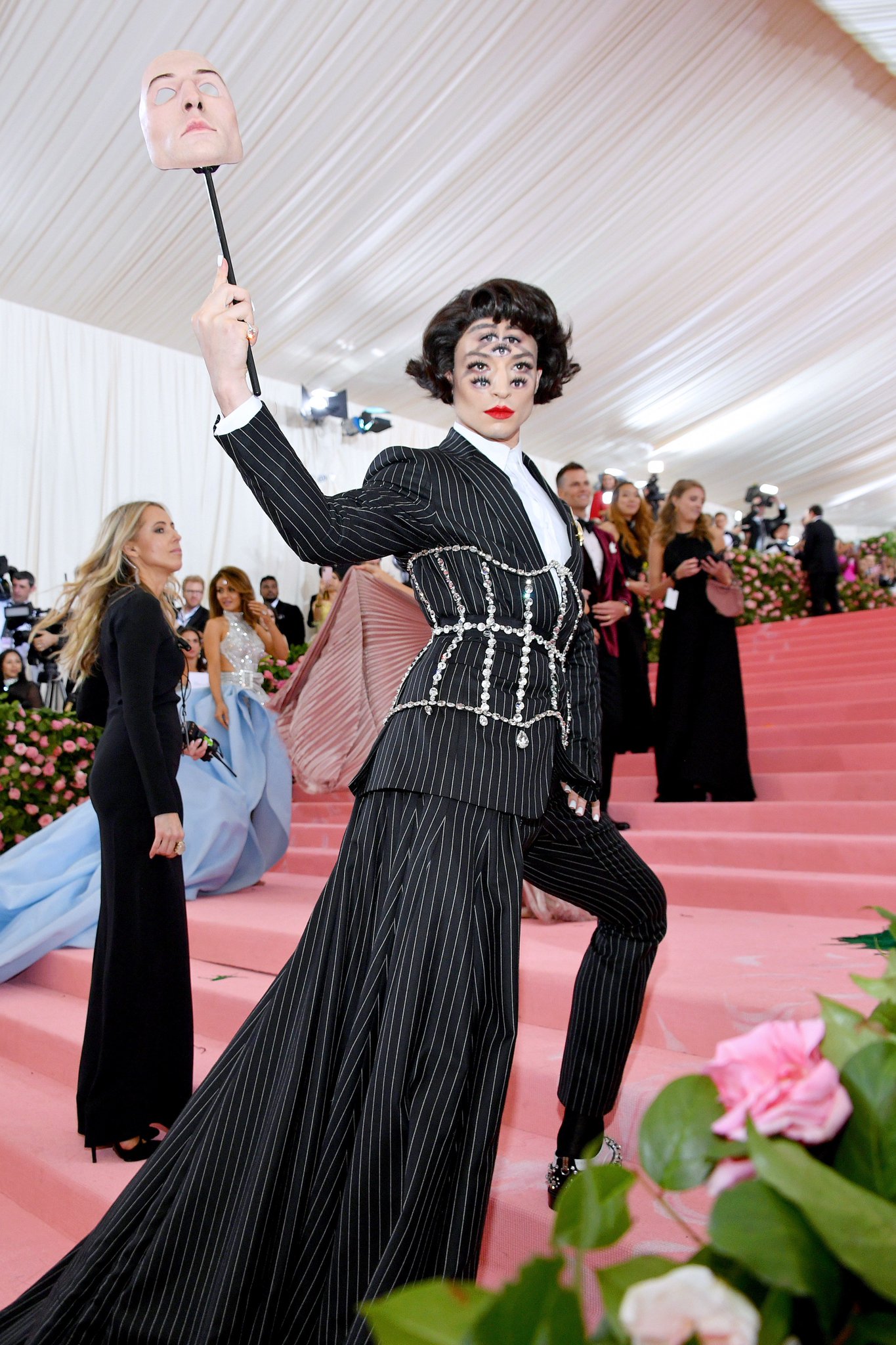 I don't think anyone doubted Justice League actor Ezra Miller was going to kill the Gala red carpet, but his Gaultier-meets-Madonna referencing tuxedo dress hybrid, complete with mask and multiple eyes painted on his face, was pure haute genius. This catapults him on the all-time best dressed male list, and should earn him a co-chair gig for next year (preferably with Billy Porter).
Best Couple: Lili Reinhart and Cole Sprouse
If The Hunger Games ever made a prequel with Stanley Tucci and Elizabeth Banks' characters (dead God, please don't), this is what they would look like. Playfully on theme while still whimsically wearable, the Riverdale couple made a striking pair.

Best Claim to "Princess of the Met Gala" Title: Zendaya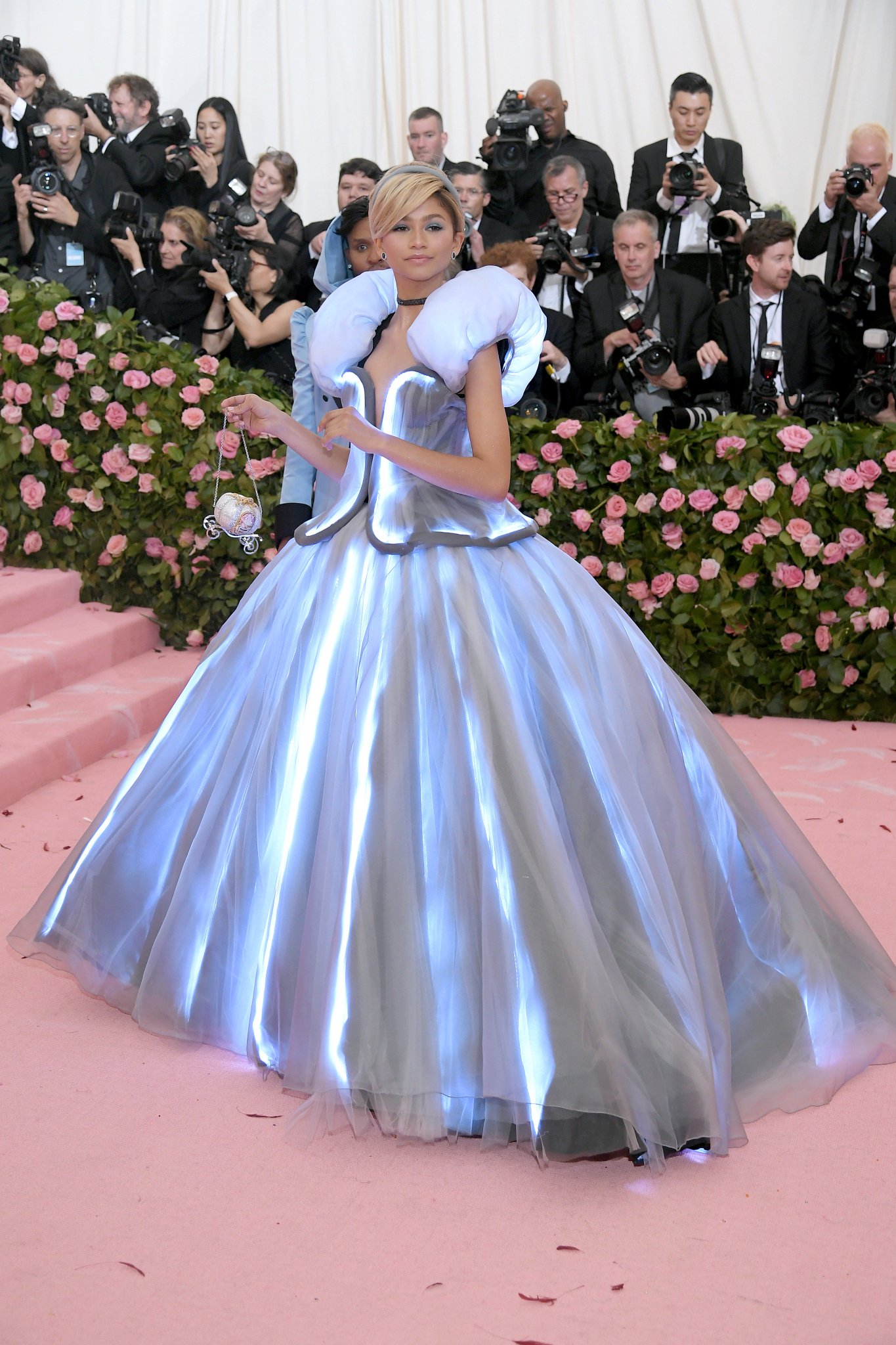 Quite literally. With the Queen (Rihanna) of the Met Gala on leave, Zendaya stepped up to her royal duty, in stunning luminescent gown that borrowed smartly from Claire Danes' 2016 look.

Best Prop: Jared Leto's Head

Jared Leto probably saw Jaden Smith carrying his chopped-off locs at last year's gala and wondered how he could outdo him. If carrying around a freakishly uncanny replica of your own head while wearing a red gown with a diamond harness, then I don't see the point of living on this planet anymore.
Best Train: Cardi B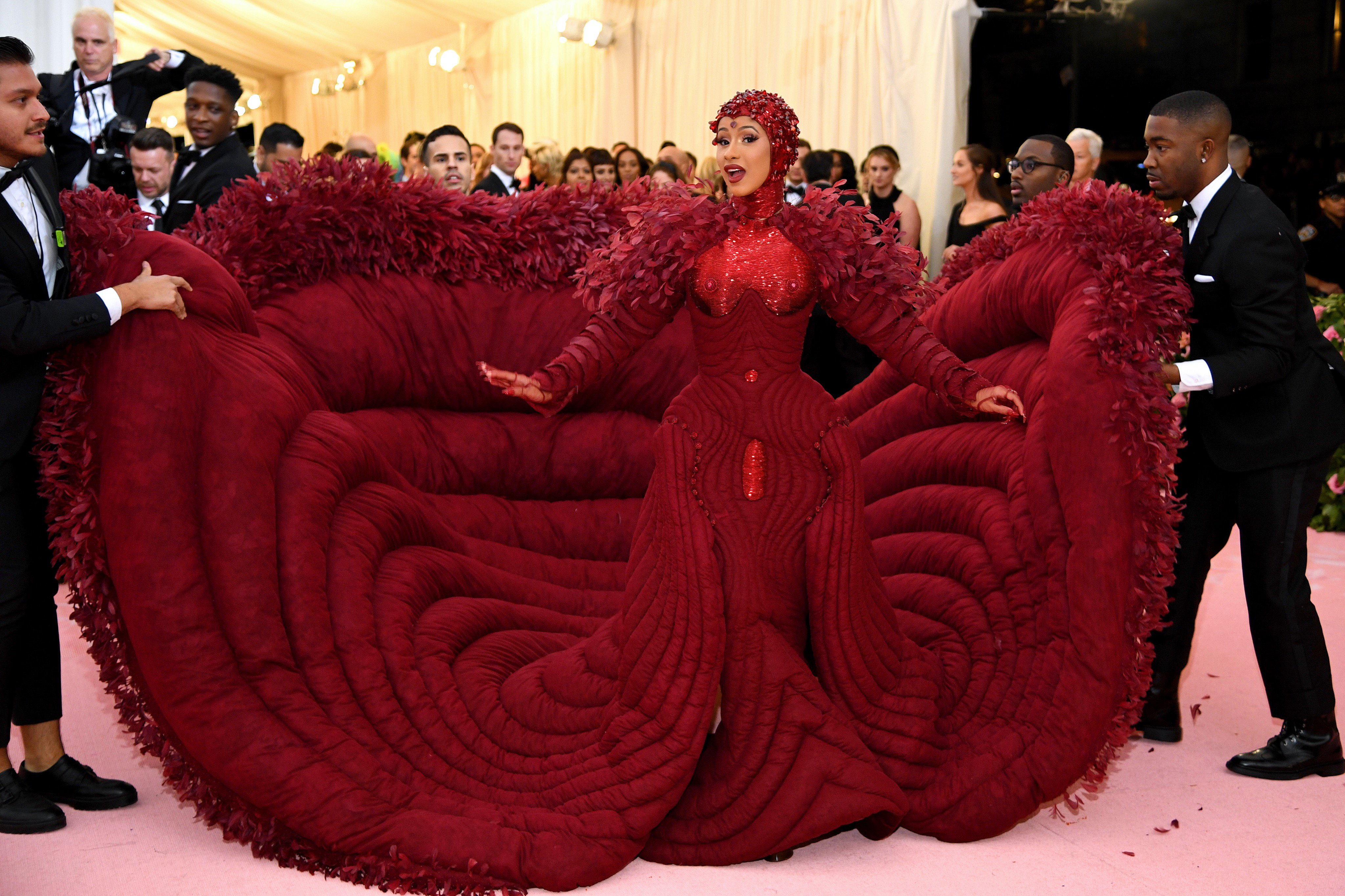 It looked oh-so-comfortable! Cardi B's extravagant gown, with its enormous Rihanna-esque train and matching dramatic headpiece, was a late showing showstopper that reminded all of us that the Grammy-winning rapper is also one of the most exciting, daring, and interesting figures in fashion.
Most Eye-Popping: Janelle Monae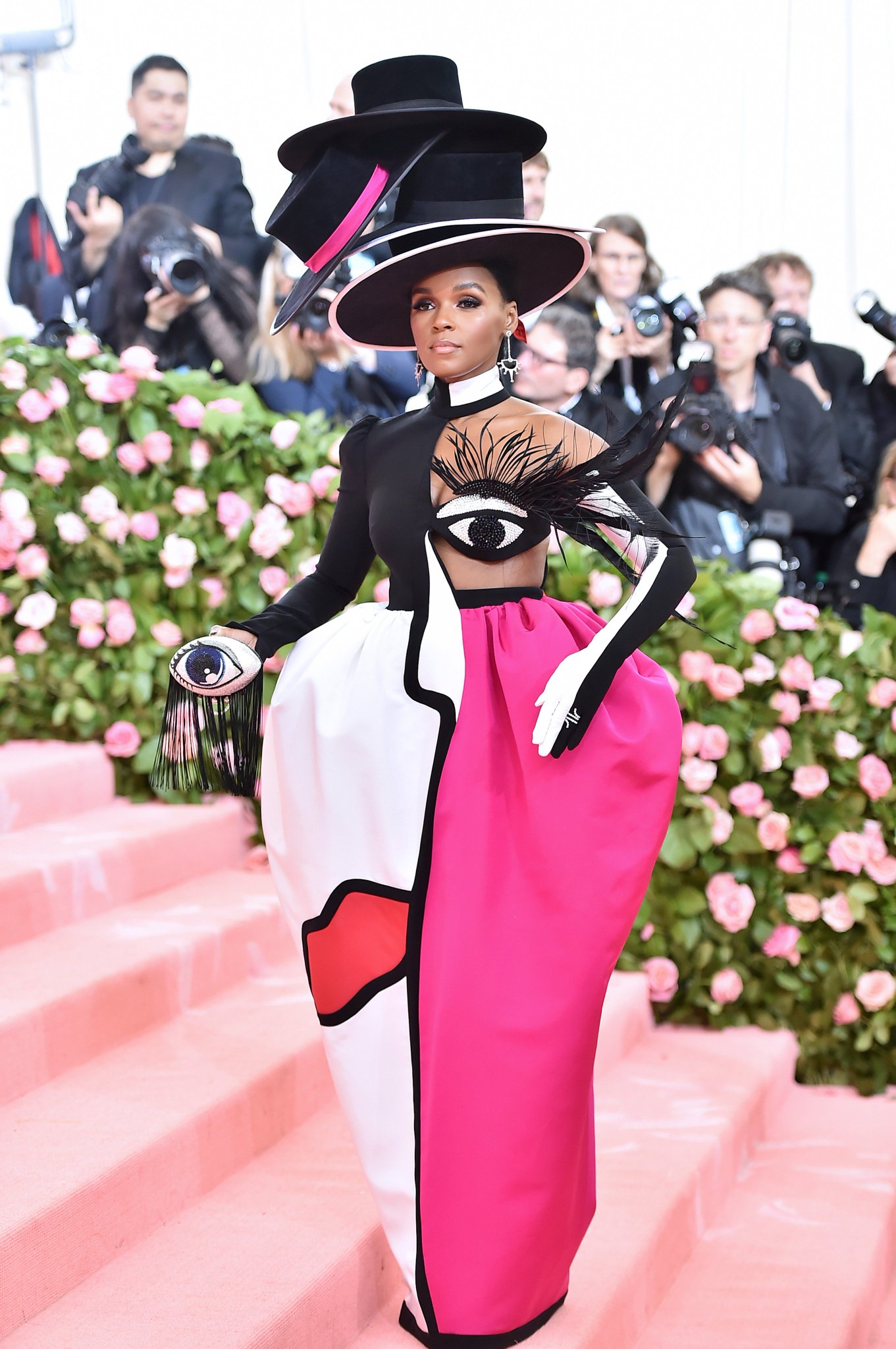 Janelle Monaé would've had one of the best avant-garde looks of the night, even if the eye on her dress didn't blink. But this is Janelle Monae we're talking about, so of course her Christian Siriano dress had an eye that blinked. And it was just as incredible as you'd hope.
Most Improved: Kylie Jenner and Kendall Jenner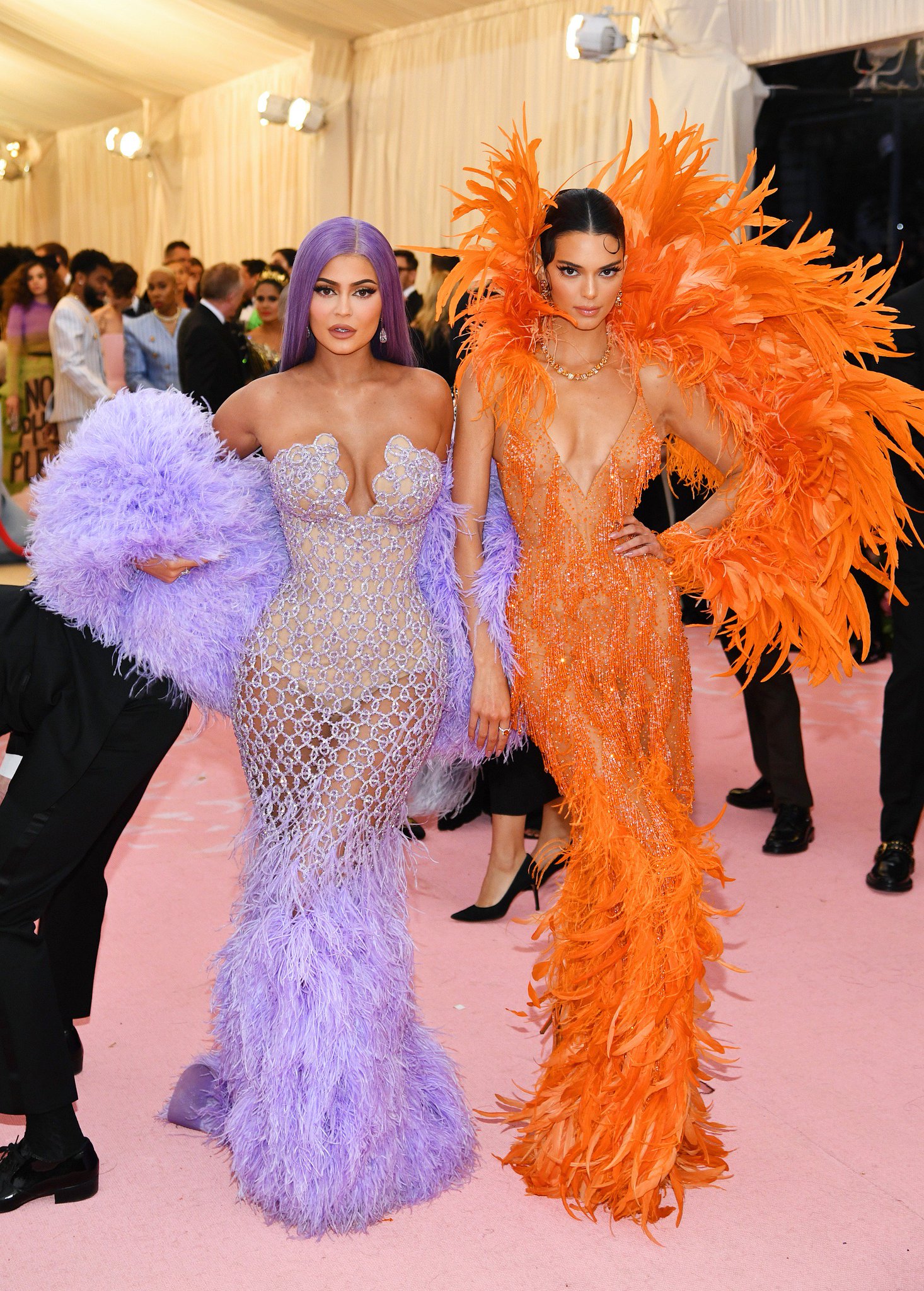 The Jenner sisters are infamous for either completely ignoring the Met Gala theme or interpreting it lazily. This year, they were stunningly on point, going for bold, dramatic dresses that looked fantastic on them and fit the theme well. Kudos!
Men Who Should've Known Better, But Didn't: Rami Malek, Taron Egerton and Richard Madden
Here's the thing, normally I wouldn't be surprised that any of these men completely failed to follow the theme. However, all three have either starred or are about to star in biopics about the two campiest men in the history of the world: Freddie Mercury and Elton John. Rami Malek just won an Oscar for playing the flamboyant Queen frontman, and yet he could only find color for his boots (granted, they are nice boots). Elton John was practically born in sequins and feathers, and Egerton and Madden stuck with basic black, not even a flash of something fun and mischievous (the closest Madden got to was a safety pin). If there were just regular attendees, a la Michael B. Jordan or Tom Brady, it could be written off as just a disappointment. But in the spirits of Mercury and John, it was almost a betrayal.